The Hard Brakes Mission:
Create the world's best brake heat shielding solutions, with unsurpassed innovation and quality at unmatched prices.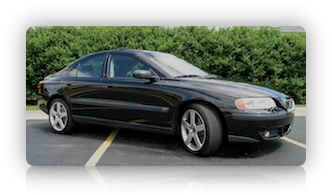 We created our first titanium brake heat shield in 2004, in response to our own need for protection from excess brake heat generated from piloting our own 3,700 pound, 330HP, sedan (shown here) around the track. With that weight/power ratio it was quite possible to boil the brake fluid and toast the caliper seals and dust boots without even trying, and we were looking for all the protection we could get. We shared our creation with other drivers of the same car model (that's a Volvo S60R in case you were wondering), and found there was a quick consensus forming that we were on to something. We started to spread the word to other drivers who were driving cars with the same Brembo brake system, and found that our product was giving good results there as well.
We recognized a good thing when we saw it, and started to expand our catalog to a wider range of cars and racing applications. To date we have developed our titanium heat shields for close to 1,000 applications, with sales to pro racing teams, brake systems manufacturers and enthusiasts on all continents. We still retain our roots to the racing community, and work closely with race teams big and small to provide the best thermal protection system available for brakes at a reasonable price. We are still a family-owned business in Naperville, Illinois (in the Western Chicagoland area), with a global and growing market reach.