Information

Useful Links

General Info

Contact Us

Have a Question?

This form is the quickest way to reach us. If enquiring about a specific application, please include the FMSI D### number or the brake pad part number from one of the major aftermarket suppliers if possible. We look forward to hearing from you.

Service

Shipping

We ship worldwide with economy and expedited shipping via USPS and FedEx. All orders will normally ship within two business days. Shipping options with time and cost estimates are available in the shopping cart when you begin your checkout process.

Shop with Confidence

Our products are guaranteed with a 90 day money-back policy. Your information is secure. We use strong encryption for your data, and secure payments via Authorize.net or PayPal.



Newsletter
Subscribe for product updates, special discounts and FREE shipping on your next order. (U.S. orders only, coupon code will be mailed to you).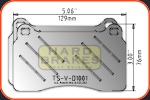 D1001 Ventilated Titanium Brake Shims for CTS-V, Mitsubishi Evo, Subaru STi, Volvo R, ...
$219.99
Sale: $175.99

Save: 20% off
Testimonials
Awesome results for BMW 135i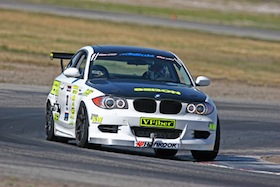 How did it go? ... VERY WELL! We can now complete one full session which we have never done before due to the brakes overheating and the pedal...
Read More ->
---
Got any hard numbers on temperature reduction?
Test Results Prove Titanium Heat Shield Effectiveness

We don't expect you to buy our brake heat shields based on blind faith.  Our track testimonials give numerous examples of real world results at the track in racing conditions.  In addition, we have conducted laboratory experiments to quantify the effectiveness of our titanium brake shims.  We took a normal brake pad and put it in contact with a 960F heat surface and measured the temperature at the back of the pad over time.  This is measuring the temperature at the contact area where the brake caliper piston would meet the back of the pad, and where heat transfer into your brake fluid and hydraulics system begins to occur.  After measuring the results with no heat shield in place, we ran the same experiment with our standard titanium shim placed at the back of the pad (again, where the brake caliper piston would press against the pad/shim).
The results showed a very significant reduction in temperatures over time, as shown in the chart below.  After 10 minutes of exposure to the heat source, the unshielded brake pad measured 547F at the caliper interface.  In comparison, the pad with the titanium heat shield measured only 404F, a reduction of 143F degrees!
As this test result proves, our titanium heat shields are effective at creating a "thermal break" or barrier between your glowing hot pads and rotors and your brake hydrualic system.  The benefits to you are reduced brake fade from brake fluid boiling, increased brake fluid life, and increased life for your brake caliper components such as caliper seals, dust boots etc.